Looking to run a 10k? Marathon? Trail race? Set a personal best? Or run regularly? Check out our 6-step guide to using RunMotion Coach, so you can take full advantage of all the app's features.
The RunMotion Coach app was created by coaches and elite runners who think everyone deserves a personalised training plan 😉.
Step 1- Onboarding
You've just downloaded the app. A conversation opens so that your new coach can get to know you and build your training plan tailored to your needs.
Tell us about your running background.
Note: Enter your best times and distances if you've done them before. This will give you accurate training paces 😉 Otherwise, your coach will set you intensities. You will be able to add other races in "My Profile". Our algorithms calculate your Maximal Aerobic Speed and endurance (when you have entered results on at least two different distances) to give you the right training paces.
After this initial conversation, remember to enter your email address in "My Profile" -> "My RunMotion account" to retain your account if you change your phone or drop it during a run 😉
Step 2 – Choose your Goal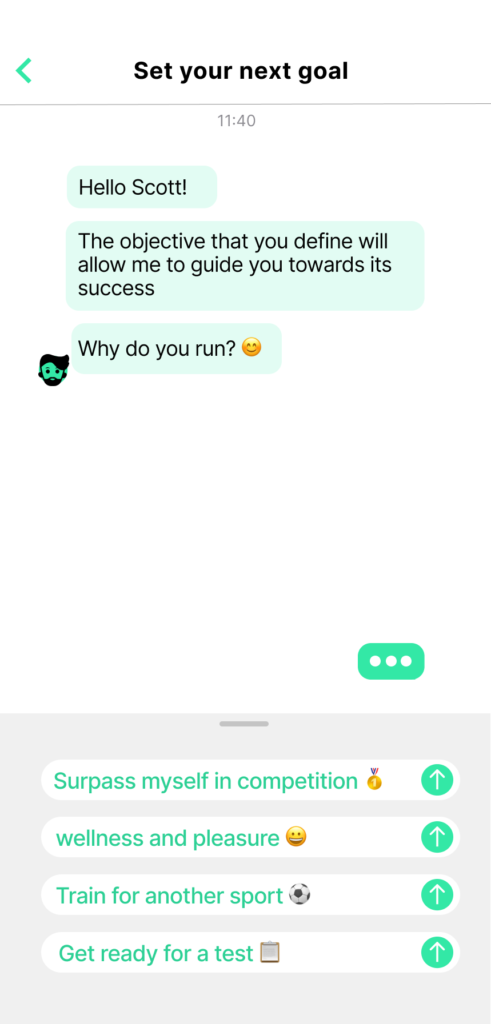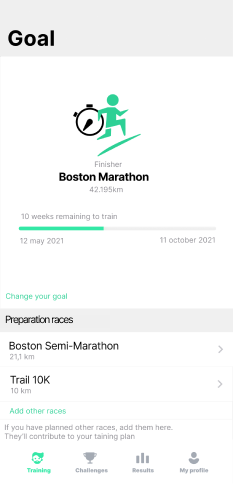 Wellness: You just want to run regularly?
Performance: 5km ? 10K? Half? Marathon? Enter the time you want to run!
Trail: 20km, 40km, 80km, 100km, 160km ? You can also enter the elevation change.
Prepare for a fitness test: Half – Cooper, Cooper, 3000m, 3X500m
Training for another sport? Indicate if you want to work on your speed, endurance or both.
The training plan is focused on your main goal. If you have intermediate races, you can also add them to your plan.
Note: We recommend that you set a maximum of 3 to 4 main goals per year and space them out by a minimum of 2 months. Intermediate goals are typically a half-marathon, for example, if you are preparing for a marathon which you have 3 to 4 months to prepare for.
Step 3 – Your personalised training program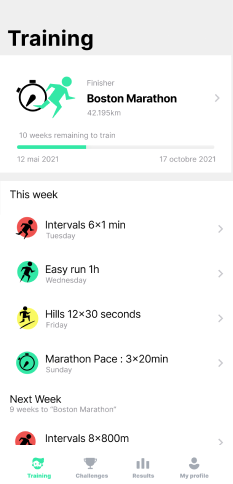 Our training plans are generated by artificial intelligence, created by engineers, elite athletes and coaches of runners of all abilities. Your program evolves according to your feedback, your fitness level and your availability.
Refine your week: which days do you want to run?
Monday? Tuesday? Wednesday? Thursday? Friday? Saturday? Sunday?
You will find various training sessions depending on your level and your goal: endurance, intervals, hills, strength & conditioning, etc.
Tell us how your training is going, the coach will recalculate your future training according to your feedback.
If you miss a workout, this doesn't matter. It happens. The coach recalculates your program according to a trend over several sessions.
The nutrition content is also very valuable, because a good diet contributes to a healthier body and superior performance.
Step 4 – Choose your coach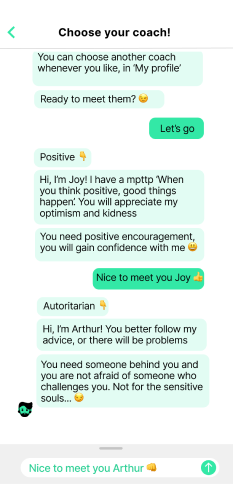 People tend to have a prefence when it comes to coaching styles. Maybe you need someone who pushes you to the absolute limit? Or would you prefer someone who's a bit more optimistic?
Each session, you'll receive the coach's advice (Premium only). You can choose the personality of your coach in "My profile" and whether you want a positive, authoritarian or philosophical coach!
"Find inspiration to be the best you can be".
– Joy, Positive Coach
"We're not here to waste our time".
– Philippe, Authoritarian Coach
"May the force be with you"
Socrates, Philosopher Coach
Step 5 – My Profile, My Settings
Find all the information relevant to you: number of sessions and goals achieved, and in Premium mode: your MAS (Maximal Aerobic Speed), endurance index and estimated VO2 max.
Note: The training paces calculated in RunMotion Coach depend on your MAS and endurance. For endurance we have set a pace of 60% of your MAS.
Here you can enter your maximum and resting heart rate. We indicate the corresponding heart rate zones. Assigned paces are for flat and not very technical terrain. So if you are on a trail, we recommend using your heart rate as a better indicator. Listen to your body at all times as well.
Adjust your settings:
–My info: Fill in your email address (useful if you change your phone or break it while running!)
–My running background: Distance and personal bests
–My training preferences: Training days, terrain, coach, display (km, miles)
Step 5b – My Profile: Sync with your GPS
You don't have to have a GPS watch to measure your activity. It's also possible to connect another mobile application, like Strava or Adidas Running. Here is the list of all connected services:
– GARMIN
– SUUNTO
– POLAR
– COROS
– APPLE WATCH
– WAHOO
– DECATHLON
– STRAVA
– ADIDAS RUNNING
– HUAWEI
There is no major difference between connecting a GPS watch or an app. Connect your GPS watch first if you have one. If 2 services are connected, we display the activities from your GPS watch.
Note that GPS watches do not notify us of a change in activity, but Strava does.
For example, if you change the title or the type of activity in Strava, you will get the modification in RunMotion Coach, but not if you change the title on Garmin, Suunto or Polar.
Step 6 – Results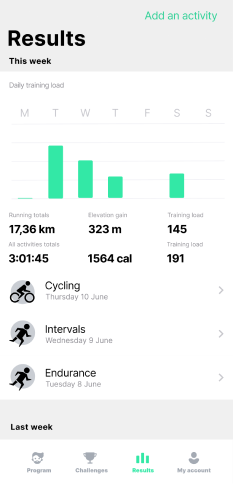 Track your progress!
You will find a history of all your training (synchronized with your watch/tracking app or manually added activities).
You edit the name and other details of your sessions. Add a photo to share your progress with your friends 😉
In your "Results" :
-Find your weekly results in both miles and training hours.
-You will see your training load, a unit that allows you to take into account all the activities you do (running, cycling, swimming…).
-You will also find a history of all races. Connect your Garmin, Suunto or Polar GPS watch or the Strava app in "My profile" -> "Connect a tracking app" to synchronize your next activities in RunMotion Coach.
Also, find individual and group challenges in the app. Now there's no excuse not to run 😉
Premium Features
You can upgrade to Premium at any time, and get a free 14-day trial!
Choose your coach!
Tailored conversations: Find the motivation and advice you need
Refine your week: Receive a reminder each week to update your training days
S&C : Physical preparation is important to perfect your running technique
Nutrition : Nutrition is essential to perform at your best and feel healthy.
Synchronization: With Premium, you can export all your training to your Garmin GPS watch (you just have to follow your watch during your run) and Google Calendar (so you don't miss any more training!)
Choosing Premium means optimizing your chances of success, with more features and content. It also means supporting a French company, based in the Alps, with strong values.
All you have to do is run! With this guide, you have a good overview of how the RunMotion Coach app works. We hope you succeed with your running goals, like 88% of our users! There are plenty more surprises waiting for you in the app, especially in the coaches' messages, which will keep you on your toes!