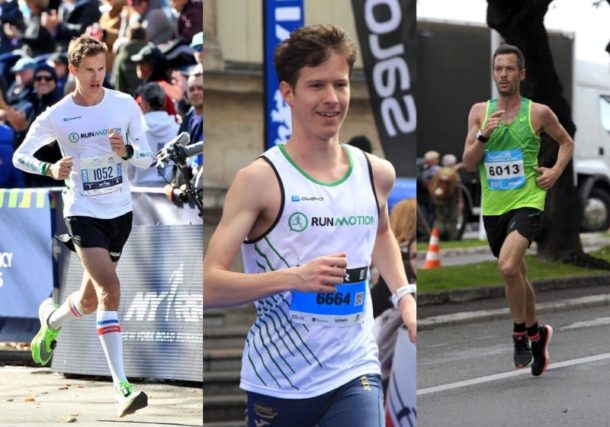 The idea for RunMotion Coach was born during a run by brothers Romain and Guillaume ADAM. They noticed that more and more of their relatives started running and needed advice to progress and reach their goals. They created a team around RunMotion Coach to make training accessible to all, regardless of their level.
The RunMotion Coach team now consists of about ten people who are at your service!
The founders
Guillaume Adam
After climbing one ladder after another, Guillaume became a member of the French track and field team in the 1500-meter run in 2013.
As an engineer, Guillaume has participated in a research project at MIT on models to predict running performance. He is a certified coach and holds a professional certificate as a physical education teacher. He is also the author of Ma bible du running, du trail et du marathon published by Leduc Editions.
Guillaume is the Chief Technical Officer of RunMotion Coach and answers our users when they have questions or requests about their training plan.
One of his next challenges is to improve his own marathon record (after becoming the first Frenchman to cross the finish line in the New York City Marathon in 2019) and enjoy every moment on the way.
His main records – 1500m: 3 '38, 3000m : 7′ 57, 10km: 29 '31, Half-Marathon: 1h08, Marathon 2h23.
The list of his prizes:
25 medals at French championships
Winner of the RunMotion Coach Marathon of Chambéry (2021), the half marathon of the Foire de Savoie in Chambéry (2022), the 10 km of Lausanne (2014), Lyon (2016), the Mont-Blanc (2018) and the trails of the SaintéSprint (2018), the Ultra-Trail XXL Race de la Maxi Race (2021) and 2nd of the MCC of the Ultra-Trail of Mont-Blanc (2019) and the Trail of the 5 Vals (2023). He is also a finisher of the UTMB (2022).
Romain Adam
Running often allowed Romain to recharge his batteries after long, tiring days. As a specialist in the startup world, Romain has managed an accelerator for startups and met people from different fields. He understands the needs and expectations of runners better than anyone.
He is an all-rounder who likes to combine pleasure with marathons and trails.
Romain is mainly responsible for developing RunMotion's partnerships with race organizers and companies.
His goals in 2023: Improve his personal record in marathon (succeeded in Barcelona in March 2023 in 2h34) and finisher of the UTMB (succeeded in 29h24 – 144th place).
His main records – 1000m: 2 '27, 10km: 31′ 34, half marathon 1h12, marathon 2h34.
Paul Waroquier
A complete runner and smart strategist, Paul is today one of the best European athletes in the middle distance in the Master category (over 40 years old). A passionate athlete and psychologist, he has written a novel entitled "L'art de gagner".
A true mentor, Paul has coached many top national athletes and less experienced runners.
His most important records – 3000m: 8'48, 3000m Steeple: 9'27, 10km: 32'37
The RunMotion Team: at your service
The RunMotion Team Coach has expanded: Paul-Louis, Alanis, Matteo, Jules, Simon and Mailis, all passionate about running and their job: IT development, communication, marketing, graphics.
Many of them train the 10km run, marathon, trail or triathlon (but you don't have to run to be part of the team 😉)
RunMotion Coach is 100% developed in France, in the Alps. The RunMotion Coach team is located near Chambéry, an ideal place for runs on the plain or in the mountains!
Would you like to join us?
All job postings and internships are posted on our RunMotion Coach LinkedIn page. So sign up to receive the latest opportunities!
You can also submit a spontaneous application. To do so, send us your resume and let us know the reason why you are interested in joining the RunMotion Coach Team: contact@run-motion.com
If you have any questions about using the app or would like to report a bug, we'd love to hear from you via this form
If you apply or ask for help, we will respond to all requests within a maximum of one week (except during vacations).