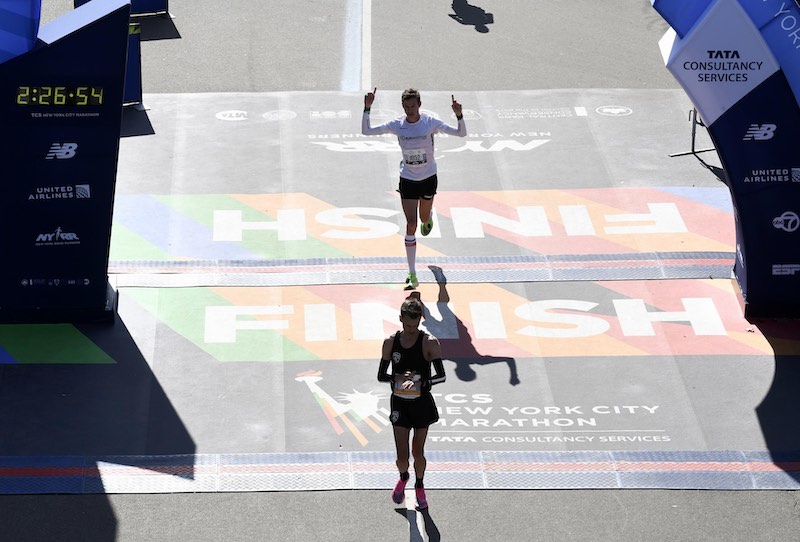 Are you looking for a personalised marathon training plan to reach your goals? Do you want to be a finisher or aim for a specific time? Less than 5 hours, less than 4 hours, less than 3.30 hours, less than 3 hours, less than 2.45 hours? Let's look together at the main points of marathon preparation and a marathon training plan.
The marathon, a mythical distance
Emil Zatopek once said "If you want to run, run a kilometer, if you want to change your life, run a marathon". At RunMotion, we won't tell you otherwise. After years of racing and training on track and on the road, we the founders completed our first marathon. It was a leap into the unknown, where we felt like we discovered a little more about ourselves and discovered new sensations.
You never know how your body will react to the marathon, that's why you have to maximise your chances of success with an adapted marathon training plan, whether to prepare for your first marathon or for the following ones.
The important elements of the marathon
The marathon is a race of patience. Lasting for several hours, your breathing is rarely the limiting factor. Rather, the challenge lies in keeping a steady pace, even in the last six miles, therefore delaying the marathon wall and muscle and joint fatigue.
In order to beat your marathon best, it is not necessarily about avoiding the wall, but about feeling it as late as possible, and above all about reducing it's effects as much as possible. Quality preparation and tailor-made training is essential to achieve this.
For a marathon, we recommend aiming to train for a frequency of 3 times a week, minimum. A good marathon training plan must take into account the runner's experience, their state of fitness, their planning and developing suitable specific training paces (vV02 max – Velocity at V02max, threshold, fundamental endurance, etc.).
A marathon training plan focused on endurance and target pace
The important thing for a marathon training plan is to control the pace of your training and get the body used to long efforts. Physiologically, the body adapts over time to muscle damage from long runs on a hard surface and to maintaining an effort despite the energy expenditure.
We recommend including in your marathon preparation 2 hour runs for basic endurance, for some it may be 18km, others 24km. When you are comfortable with 2 hours, you can go up to 2 hours 30 mins, only if you feel good that day, so to avoid causing too much fatigue.
To control the pace well, it is important to do marathon-style sessions, with portions of 5km or 10km for example. We also recommend half-marathon sessions to keep you comfortable at marathon pace, for example 3 × 10 minutes at half marathon pace.
A marathon is something that is prepared on a regular basis. The final cycle of preparation is focused on marathon pace and endurance, it is important the rest of the year to vary and in particular improve your vV02max and faster speeds.
Likewise, the target heart rate should not only take into account the maximum heart rate, but also the resting heart rate, to be precise.
A tailor-made, easy-to-follow marathon training plan
In the RunMotion Coach application, the pace calculation is very precise thanks to this endurance index calculated automatically for you from your race results (you must enter at least 2 races, and the more you enter the more it is precise).
You will find a tailor-made training plan whatever your experience and target times.
A specific key marathon session included in RunMotion Coach (depends on your level): 2x8km at marathon pace
Your RunMotion Coach program adapts to your availability each week (preparation is rarely linear, you can sometimes train only 2 times, sometimes 3 or 4 times, or even more) and you can choose the day of your long runs and interval sessions .
You no longer have to wonder what to do if you missed a session or several sessions because your plan adapts to your feedback. Therefore, you have every chance of achieving your goal: to beat your personal best in the marathon or to be a finisher.
The Run Motion team wishes you good preparation and a good marathon!