Whether you are a beginner, intermediate or experienced runner, our mission is to help you thrive with running, with adapted training and an inspiring coach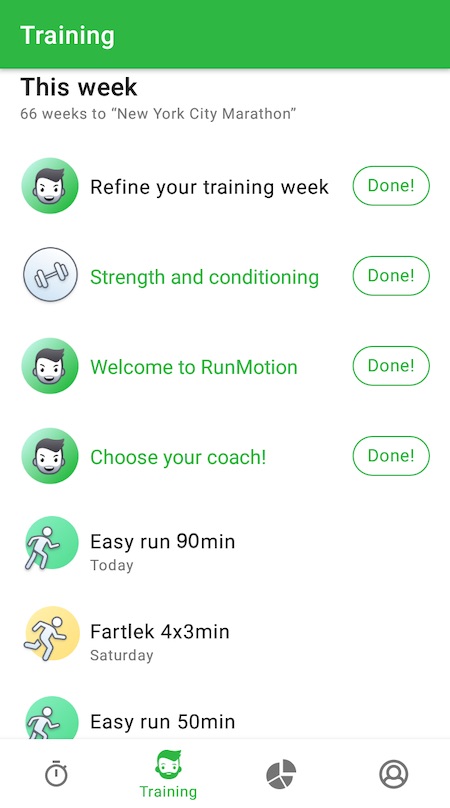 🎯 Define your next goal
Run to feel good
Prepare for a race and become a finisher
Beat your personal record
📆 Your digital coach prepares your training plan
Depending on your level
Depending on your available time (YOU choose when you train)
And your favorite training places (track, path, road)
😎 Choose the personnality of your coach
Do you like being pushed around? Choose our authoritative coach Arthur
What motivates you is the positive? Choose our coach Joy
Do you like to philosophize? Choose our coach Socrates
📊 Track your workouts
RunMotion Coach is compatible with the Strava app and Garmin, Suunto and Polar GPS watches!
Visualize your latest workouts in RunMotion Coach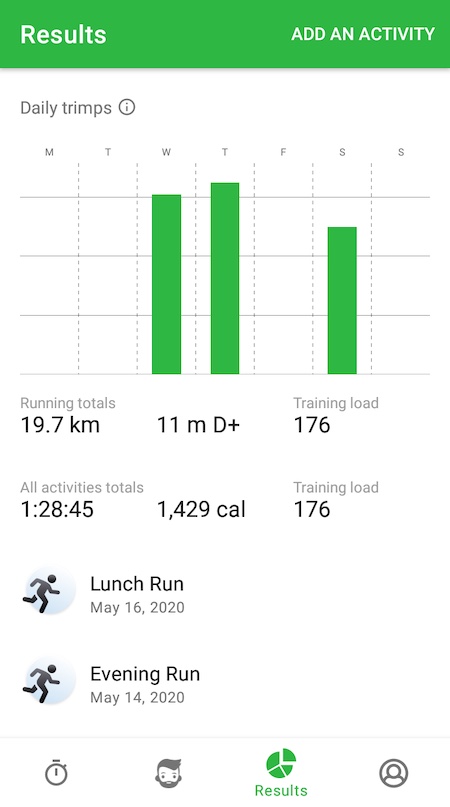 120 000

users


4,5

/5 average rating on the Stores
Chris
Super application for every runner who want to progress, achieve a goal or even perform. The application is constantly evolving and the creators are always listening to correct bugs, make improvements and give advice.
Christina
Very professional, we feel that the training plans were thought out and carried out by experts! Super easy and intuitive to use thanks to instant discussions with coaches.
Damian
Superb app very original in its operation and interaction (the Whatsapp / SMS type conversation is excellent) The workouts are varied and especially adapted to every runner according to their level.
Download RunMotion Coach app and enjoy 2 free weeks of Premium Mode
RunMotion Coach Free
• Tailored training plan
• Tailored training paces
• Prepare multiple goals
• Sync your data from Strava, Garmin, Suunto, 
Polar
RunMotion Coach Premium
from 5,00$ / month *
• Tailored training plan
• Tailored training paces
• Prepare multiple goals
• Sync your data from Strava, Garmin, Suunto, 
Polar
• Conversation with your digital coach
•
Strength and conditioning workouts
• Choose between positive, authoritarian or philosopher coach
• Tips on running, recovery and nutrition
• Workout export to Google Calendar
• Workout export to Garmin
* RunMotion Coach Premium is an in-app subscription on the Apple Store and Google Play. Please go to 'My profile' in the RunMotion Coach app to purchase the Premium.
RunMotion Coach Premium is available at the price of 9,99$/month, 24,99$/trimester (8,33$/month) or 59,99$/year (5,00$/month). Pricing may vary depending on location. A14-day free trial is offered.
Can I prepare for my next marathon with the app?
RunMotion Coach's training programs have been specifically prepared for all road distances: 5km, 10km, half-marathon and marathon, by experienced coaches who have trained runners from beginner to international level.
Is it suitable for trail running?
RunMotion Coach's training programs have been designed for trail running with specific sessions and tailored to your available playgrounds (urban or mountain). Your digital coach takes into account the distance and the elevation of your trail goals.
I am a beginner, is RunMotion for me?
Welcome to the runners family! We all put on our first pair of running shoes one day. You can set a first goal of running for 30 minutes or 1 hour. For 6 weeks, you will have sessions alternating between walking and running, and we bet that you will be able to run for 30 minutes very soon 😉
Why take the Premium version?
The Premium version is offered to any new user for 2 weeks. This allows you to discover all the benefits of the application.
In Premium, you receive motivational messages from the authoritarian, philosopher or positive coach and exclusive advice to make even more progress. Subscribing to the Premium version also allows us to develop new features to offer you the best possible experience.
RunMotion is developed by a team of engineers and athletes. Get in touch with them for more information
Guillaume Adam
Sub 4 Miler, 2h26 marathoner, coach, former engineer at MIT on running performance prediction
Romain Adam
National level runner, 2h38 marathoner and startup specialist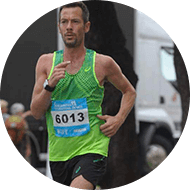 Paul Waroquier
Master French champion, coach and mentor of top runners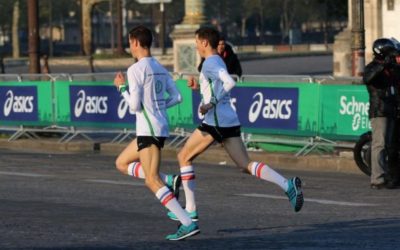 Today, more and more runners are wearing compression socks or sleeves during exercise or recovery. Is this a fashion statement or a genuine performance enhancement? The benefits of compression Mainly used on the calves when running, compression has the following...
RunMotion Coach in the press
RunMotion innovates in the world of running and deserves to be discovered.
RUNNER'S WORLD
Useful when you cannot go to a local club at fixed times every week.
TRAILS ENDURANCE MAG
The possibility for all runner profiles to receive personalized and practical supervision in order to progress. Tested and approved!
NATURE TRAIL