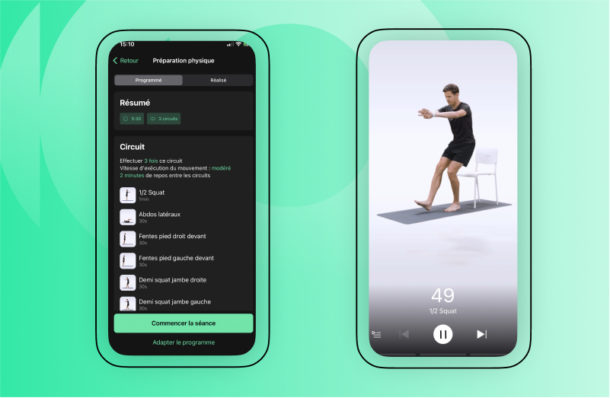 Muscle strengthening is really important if you want to achieve your goal in running to minimize the risk of injury, improve your core strength and simply progress. We have developed a complete physical preparation module and are excited to present this new feature in the RunMotion Coach app.
The new version (V6.0.0) will be released on Google Play and the App Store on Thursday, September 28, 2023.
The S&C workout: a real advantage to reach your goal 
In order to provide you with the best conditions for achieving your goals, we believe that a global approach to your training is of interest. For this reason, since our launch in 2018, we have added regular content in addition to your training plan. For example, nutrition tips, cycling, mental preparation and physical preparation (S&C workouts).
Nevertheless, in terms of muscle strengthening, we wanted to go further to give you fully guided exercises that address the specifics of your goal. That's because you have sometimes reported to us in Customer Care that it was not always easy to follow the S&C workout recordings in the app.
From now on, you can do muscle training at home without using any materials, just by following your smartphone! You visualize your session before you start it, and a timer allows you to go through your session while you see the exercises to be performed!
The know-how behind these programs
To create the programs, we turned to Julien Coudert, a physical therapist specializing in sports who is also a marathon runner (2h29 in 2022), ultra-trail runner (15th place in a UTMB race in 2013), and triathlete. He accompanied Romain (co-founder of RunMotion Coach) in his physical preparation after an injury at UTMB 2022, allowing him to gain 4 minutes on a marathon (2h34) and finish the UTMB 2023 (29h).
In addition to being situated in Chambéry, as for RunMotion Coach, Julien also knows the ins and outs of road running, trail running, and rehabilitation for recreational runners.
Our technical teams have done a lot of work to integrate S&C workouts into your RunMotion Coach training program and customize it with your muscular strength experience in mind. Because regarding two identical running levels, you may not have as much experience in physical preparation as other runners.
The integration within you training plan
Even though there are dozens of muscle/fitness apps out there, none of them connect your S&C training program to your running training plan. This module in RunMotion Coach allows you to build your muscle training in direct connection with your running program, without contradictions.
Muscle strengthening sessions depend on the division of your training (work phase/assimilation phase). The closer you get to your main goal, the more you will progress to dynamic movements, even plyometric movements for the experts.
S&C exercises are designed to be done without equipment, with specific exercises for road running, trail or wellness. If you want to use weights you can add them (dumbbells, barbells, kettlebell) to perform squats, hip thrusts and other exercises.
The muscle strengthening workouts are available with the premium mode of the RunMotion Coach app. We'll let you discover this new module!