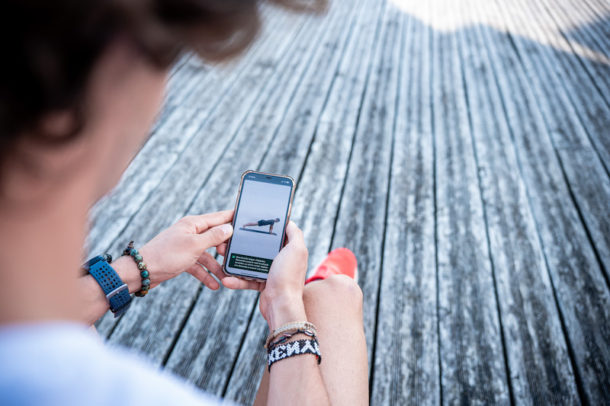 For the 5th anniversary of the RunMotion Coach app, there is a new major version! Since this Thursday, September 28, version 6 is available in the App Store and Google Play. We invite you to go to the page of these RunMotion Coach stores to download it.
The main innovation: complete and intuitive S&C workouts
Performing your S&C workouts is almost as easy as playing your Spotify playlist! For each session, you have a list of exercises to perform in 3 or 4 rounds. Just tap play and let it guide you! Discover a new celebration at the end of each session 😉
Each S&C workout will fit completely into your program, with more dynamic exercises at the end of the preparation. Sometimes you use other apps for S&C, but they may conflict with your running training plan. From now on, no more questions asked!
Workouts were planned with Julien Coudert, physical therapist and experienced road and trail runner. If you have pain anywhere or feel tired, you can adjust your workout before you start it.
N.B: If you don't have these S&C sessions during the update, you just need to go to My Profile > 'My Training Settings' > 'My Training Days' and change a day. When recalculating the training sessions, sessions will be created with the new format.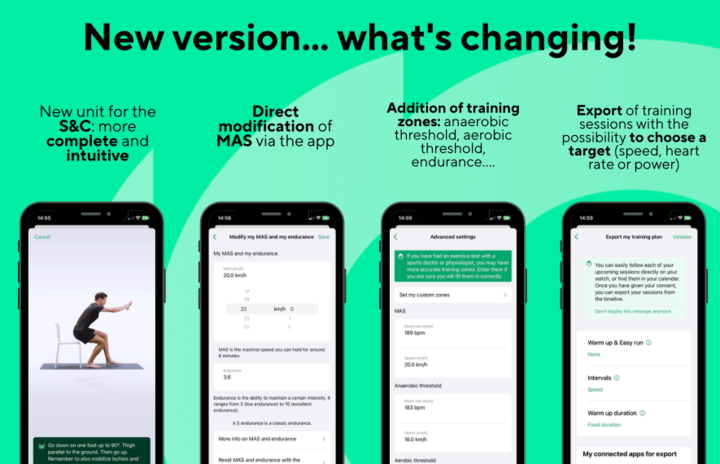 Change directly your MAS and your endurance
Your MAS and your endurance are calculated directly from your results of the last runs. If you feel that your MAS and endurance do not match sufficiently, especially if you are in a recovery phase or have made great progress, you can change your MAS and endurance directly in 'My physiological data'
Improved settings highlighted
Previously, you could access advanced settings – critical power and heart rate zones – through 'Connect an monitoring app'. They have now been integrated directly into the "My physiological data" screen (via My Profile) to make them more visible.
This is an advanced setting that some experienced runners have asked us about, especially if you are doing an endurance test with a sports doctor. If you are not sure, it is better not to share this data and keep it simple but effective – maximum heart rate and resting heart rate data.
Export the choices to your watch more visible
Also, customizing the export to your workouts with targets for speed, heart rate, and power was not always easy for users to see. That's why we made them visible on the 'Export My Training Plan' screen. Heart rate and/or power are only available if you have set them in "My physiological data".
Export is available for Garmin, Suunto, Coros and the Apple Watch. Polar and other GPS watch providers do not yet offer the technical possibility of export on their platform, which we regret. You can also let them know through their customer service that you would like to export your sessions from a collaboration app to your watch. As soon as the technical possibility is available, we will do our best to make it available to our users in less than 2 weeks 😉
Around mid-October, we will export the sessions already scheduled on the original Apple Watch app 'Exercise' to the App Store in the next version 6.1.0 , after the release of WatchOS 10 (new version of the Apple Watch operating system).
We hope that these innovations will allow you to further optimize your preparation for your next sporting challenges! Based in the French Alps,our team has put a lot of effort and passion into this new version. Seeing your successes is OUR greatest success!