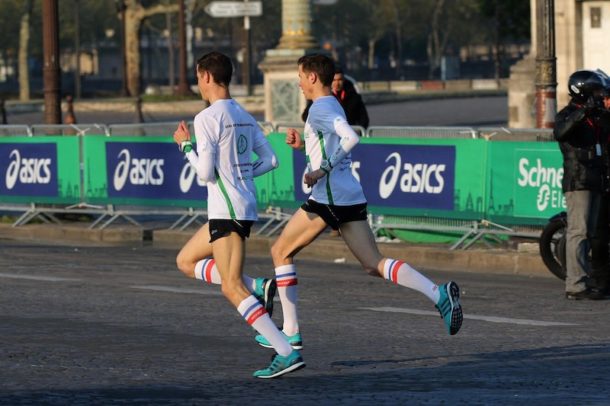 Today, more and more runners are wearing compression socks or sleeves during exercise or recovery. Is this a fashion statement or a genuine performance enhancement?
The benefits of compression
Mainly used on the calves when running, compression has the following benefits
– Better oxygenation of the compressed limbs
– Improved recovery
– Better elimination of toxins and lactic acid
– Reduction of muscle fatigue
– Reduction of muscle shock and vibration
There are different levels of compression. The pressure exerted on the muscles is greater for sleeves during exercise than for socks during recovery.
During exercise, compression sleeves are often used to cover only the calf. During recovery, compression socks also cover the foot.
Do compression sleeves improve performance?
To perform, muscles need to be properly oxygenated, which is our main fuel. Compression on the calf improves blood circulation, and therefore accelerates blood flow, or the venous return that we sometimes hear about. Oxygen would be brought to the muscle more quickly, which would theoretically improve performance.
In the field, no reliable study has been able to demonstrate a significant improvement in performance. Nevertheless, in terms of the sensation of effort when one has calf pain, the sleeves can reduce the sensation of pain thanks to a reduction in muscular shocks and vibrations.
Do compression socks improve recovery?
Following intense or long effort, our muscles tend to "store used blood". Like compression stockings, which are a medical device, socks play a role of contention. The socks help drain toxins and lactic acid produced by the muscles and contribute to a faster "cleaning".
In addition to the 3 pillars of recovery, which are sleep, good hydration and a quality diet, recovery socks are an interesting accessory to recovery.
References for running
The main suppliers of compression clothing offer sleeves or socks for the calves. Look at the size guide to choose the right sleeves or socks to have the ideal pressure, neither too big nor too small.
During exercise, we recommend the CEP Run Socks 3.0 (women's and men's models) and the Booster Elite socks from BVSport.
For recovery socks, we recommend the Recovery Pro Socks (women's – men's model) and the ProRécup Elite from BVSport.
CEP is a German brand specialized in support for over 70 years, with German manufacturing. BVSport is a French brand with a production unit near Saint-Etienne.
There are also compression garments for the arms or quadriceps, but the interest is low in running.