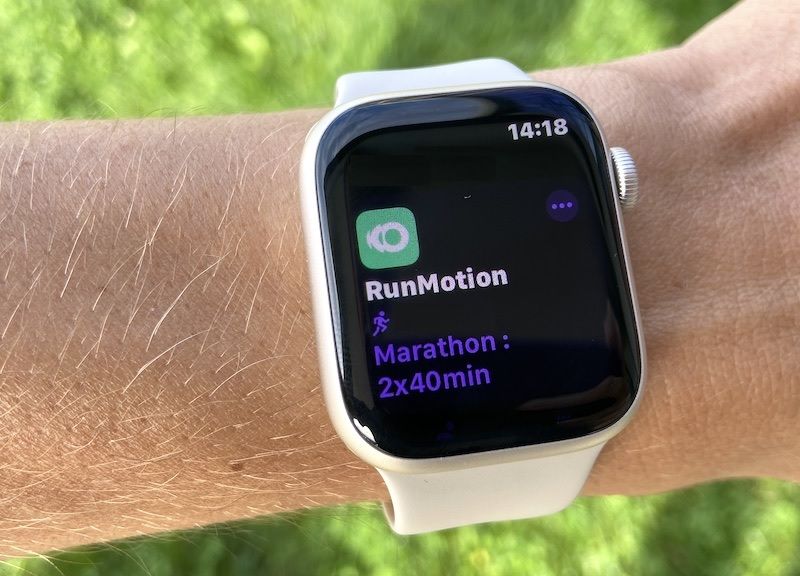 Monitoring a structured workout is now easy with the Apple Watch! When it comes to interval training, all you have to do is be guided! RunMotion Coach is among the best mobile apps that are 100% compatible with these structured workouts.
All you have to do is export your scheduled workouts in your RunMotion Coach app to find them in the Workout app on your Apple Watch and start your workout.
What is a structured training?
A structured training session is:
Warm-up (usually 20 minutes at low intensity)
Heart of a training session: interval training
Return to rest (usually 5 minutes at low intensity)
It can also be simply 50 minutes of basic endurance, because to make progress in running, you need to alternate interval training and easy runs. 😉
If you have an indication of speed, heart rate and power in the description of your session, you can also choose this goal so that your Apple Watch will signal you (on screen and even by voice!) when you are in the right direction or when you are going too fast or too slow.
What are the Apple Watch and the compatible iPhone?
RunMotion Coach had already developed a RunMotion Coach app for the Apple Watch.
This Apple Watch app is no longer necessary if you have an iPhone released after 2018 (iPhone XR, XS, 11, 11 Pro, 11 Pro Max or newer), AND an Apple Watch released after 2018 (Apple Watch Series 4 and later, as for the Ultra).
It is actually necessary to have an iOS 17 and WatchOS 10 to benefit from this innovation. Devices released in 2017 and before cannot benefit from Apple's update.
If you have an Apple Watch Series 3 or newer or an iPhone X or newer, you can still use the Apple Watch app from RunMotion Coach, but the integration is not as complete as this new version, which exports the session scheduled in the Workout app.
How do you get your structured workout on the Apple Watch?
From now on, everything goes through the Workout app, which can be downloaded to any Apple Watch.
The steps to get your workouts in the Workout app:
On the iPhone, you only have to do this once:
Update your iPhone to iOS 17: iPhone Settings > General > Update > Download and install the latest available version, iOS 17 or newer
Update your Apple Watch to WatchOS 10: Open the Watch app > General > Update > Download and install the latest version available, WatchOS 10 or newer
Update your RunMotion Coach app and download the latest available version from the App Store, 6.0.2 or newer
On your RunMotion Coach app > my profile > Export my training plan > Connect an app for export > Apple Workout > Connect > Authorize. In Export my training plan, you can also choose export settings: follow a speed or heart rate goal (the power target is not yet supported by Apple), and whether you want a free time to warm up.  
You can check that authorization has been given, by going to your Watch app > Workout > Connected apps (at the very bottom) > RunMotion > the button should be activated (green). To cancel the authorization, you can deactivate the button at any time (gray).
Finally, to choose the voice of the voice coach for alerts, it's the same as for Siri, you can change it on your iPhone in Settings > Siri and search > Siri voice.
On iPhone, you can export your scheduled session at any time:
In your RunMotion Coach app, in your training plan, on your schedule running (or cycling) session, press Export, or at week level, on the Export button.
On the Apple Watch, as soon as you want to do your session
Open your Workout app, and choose the RunMotion session you've just imported. By pressing the …, you can see the details of the session, and then in Learn more, you can also find the imported sessions scheduled for the last 7 days and the next 7 days. 
Enjoy your session!
Once you're back, you can access the summary of the session you just finished on your iPhone by opening the Form app. In your Form app you'll find all the details of your training session: speed, heart rate, ground contact time, running frequency, vertical oscillation, power…
Once you have finished your session
To replay the session in the RunMotion Coach app, simply open the app and the activity will be imported. If you don't get it right away, you should close the app and open it again to get it.
The first time you import an activity, go to My profile > Connect a tracking app > Apple Health > Accept all for import. Then close your RunMotion Coach app and open it again. This first step may take a few minutes if you already have a lot of activity stored in Apple Health.
If the initialization takes 2-3 minutes at the beginning, it'll be completed immediately when you press Export. Now it only remains for us to wish you a good session and a good preparation for your next sports challenges! All you need to do is run!