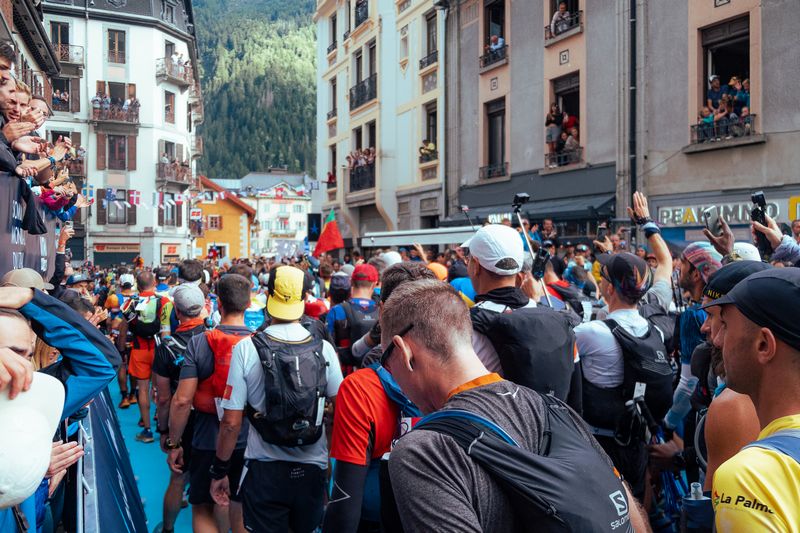 When you are preparing for a race, especially a long race like an ultra-trail, you always ask yourself 'What do I bring?' or 'When do I do the checklist?' (or not) before a race. I am joining you today to review your equipment. Spoiler alert: the key is anticipation.
What equipment do I need to bring?
The usual list of equipment you should have with you
If you are used to training in the mountains, you know about the weather capers. It can be a great sunny day, and before you know it, it's pouring rain (if you are lucky), or snowing right on the same day. And that goes for all seasons combined. Well, ask the English after that… No offense folks, I am just kidding, England is a great place for hiking.
Typically, running requires a list of necessary equipment to make it easier for you and provide a high level of safety. In addition to the traditional UTMB equipment, here are some items for your gear checklist that you need to take almost every time:
A special trail bag to carry your equipment. If you have equipment, of course you have to carry it. So you have to take a bag adapted to your practice, and above all it must be comfortable if you plan to do long runs (even many hours for the ultra!). You can take a bag with an integrated whistle, so you don't have to buy one or forget it in your checklist! It's obvious that you are used to running with your bag before the race, so you do not have any unpleasant surprises….
Your smartphone. Its main purpose is to call the emergency services, whether you are in the mountains or in the city, you can always reach them quickly. Enter the number of the PC of the race in your contacts and check the portability of your phone contract if you travel to another country. Small tip: If you feel bad during the race, you can also use it to call your family – it will cheer you up immediately.
Your personal cup for food during the race. Think green: take your reusable cup with you!
A supply of water (at least 1 liter) and a supply of food. Sometimes liquid and solid refreshments are far apart, but you will need to hydrate and eat throughout the race. If you do not know how to eat during the race, you can use this calculator to get a nutrition plan!
One or two headlamps with spare batteries. Mandatory for ultra runs and races that take place at night. For your own safety and comfort, do some training at night with your headlamp on.
Warm clothing and raincoats/waterproof jackets. Usually a vest with a waterproof hood and another extra layer, a hat, headband or beanie, gloves, waterproof pants, training pants, etc. are already included
Safety equipment. ID Papers, survival blanket and an elastic tape. It is recommended to have a pair of walking sticks – if allowed – especially in view of the difference in altitude
Possible adaptation of the equipment depending on the weather conditions
Competitors also make a list of equipment needed in extreme conditions. They usually inform the runners about this type of situation 48 hours before the race.
To summarize, in most cases, the bad weather gear requires another technical layer, while the heat wave gear includes a hat and sunglasses.
You also need to have all of this on your pre-race checklist. That means you do not have to buy anything (only in case of a memory error)! This way you will not have any nasty surprises!
When do I write my necessary checklist before a race?
Anticipate the unexpected
It's best to anticipate at least 1 month before the race to notice what's missing. Then you can check and order things you don't have. That way, you will not be stressed about a possible delay in delivery, and you will not be caught off guard at the last minute.
This gives you enough time to test your gear and review your checklist before a race. In fact, this is almost essential if you want to be successful in your race. I am not talking about practical skills here, but your truly feelings. The key to success is to feel comfortable with your equipment.
Do not forget the equipment tests
If you anticipate it, you really have time to test your equipment. Run with all the gear you expect to use during the race. Yes, it's not that fun, but you have to get used to running in the rain or in the blazing sun to be prepared. Be careful though, you need to adjust the intensity and duration of your effort, step by step you will get closer to the race…
Pack everything in your bag and start running. And yes, when you try your gear, you have to carry it on your back too. Running with a 2 to 5 pound bag is clearly not the same as running without a bag (or without much in it). Your muscles get pulled on even more and your center of gravity shifts a bit. So if you are going to do it anyway, it's probably best to get used to it before the big day.
Make sure your gear is not causing you pain, otherwise. For runs of a few hours, that's fine, but for an ultra run, that's another discussion.
You now know the best times and ideas to prepare your gear checklist before a race! You can now focus on your course with peace of mind. Have a great race! Have fun 😆