The RunMotion Coach app has been created by 3 high-level coaches and runners to enable each person to achieve their running goals and to develop. We present a guide for using RunMotion Coach to help you to take full advantage of all the features of the application.
'Welcome Conversation' in RunMotion Coach

When you download the app, you meet your digital coach. This allows us to find out more about your running experience and your level if you tell us about a run you've done recently. This run, as well as others that you can add in "My Profile", allows us to estimate your velocity VO2max (vVO2max) and your endurance (when you have at least two) in order to give you the right training paces.
After this initial conversation, remember to enter your email address in "My Profile" -> "My RunMotion account" to be sure to find your account if you change your phone or if you drop it during a running trip 😉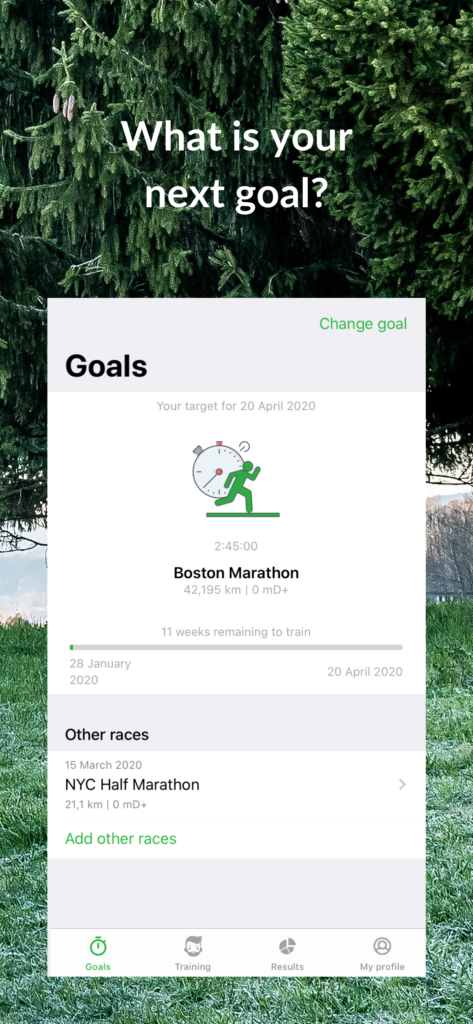 Define your first goal
In the "Objectives" tab, define your first objective! We have two types of objectives on RunMotion Coach: a main objective and intermediate objectives.
The preparation is focused in your main objective. When you define intermediate races, the days before and after the race are lightened to arrive relatively fresh for your race and recover properly.

We recommend you to set a maximum of 3 to 4 main goals per year and that you set them at least 2 months apart. Intermediate goals are typically a half marathon, if you are preparing for a marathon in 3-4 months.

Sometimes training plans are 8 or 12 weeks, in RunMotion we don't really work like that because it is rare to enter your goal exactly 8 or 12 weeks before your run. If you arrive for example 17 weeks before your race, you will first have a preparation more focused on speed, then you will get back to your main objective 12 weeks before the race. If you arrive 7 or 9 weeks before your goal, you don't have to worry about how to adapt.

In any case, the last 2 weeks before a main goal are lightened in order to arrive in great shape before your race!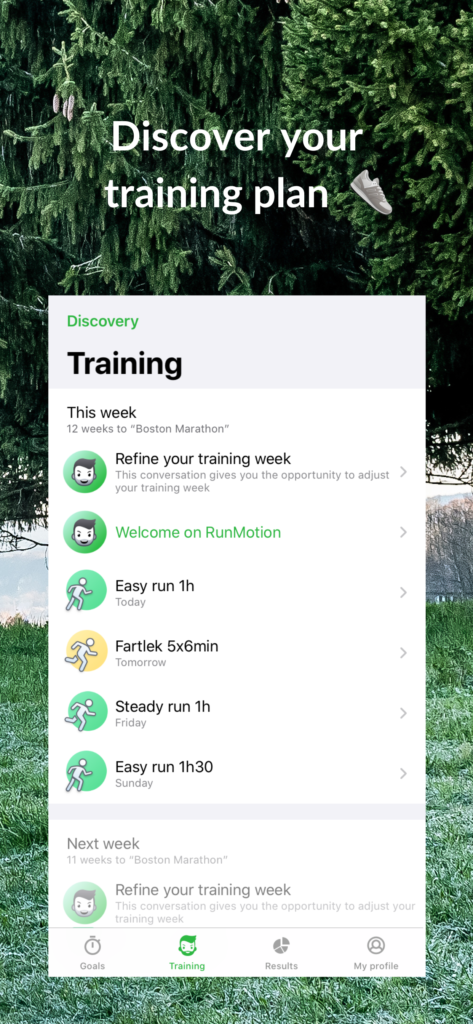 Discover your training plan each week
Every week, discover your training program! Let us know how fit you are and your availability.
From 3 training sessions per week, you can indicate when you want to position your long outing and your split session. In general, you should avoid having 2 long sessions 2 days in a row.
Each session, discover the coach's advice (in Premium only or in the Discovery period the first 15 days after the download). You can choose his personality in "My profile" if you want a positive, authoritarian or philosopher coach!
For each session, if you have indicated a run done less than 4 years ago and with less than 5 hours of effort, we give you directly your target pace. The training paces calculated in RunMotion Coach depend on your vVO2max and your endurance, and for fundamental endurance we have set a pace at 60% of the vVO2max
If you have entered your maximum and resting heart rate in "My profile", we indicate the corresponding heart rate zone. The pace is intended for flat and not very technical terrain, so if you are on a trail, the heart rate is a better indicator.
For the trail, we indicate a target elevation every week within 4 months before a trail as a main objective.
Indicate your feelings, the coach recalculates your next weeks based on your feedback. If you miss a session, it's okay it happens, the coach recalculates based on a trend over several sessions.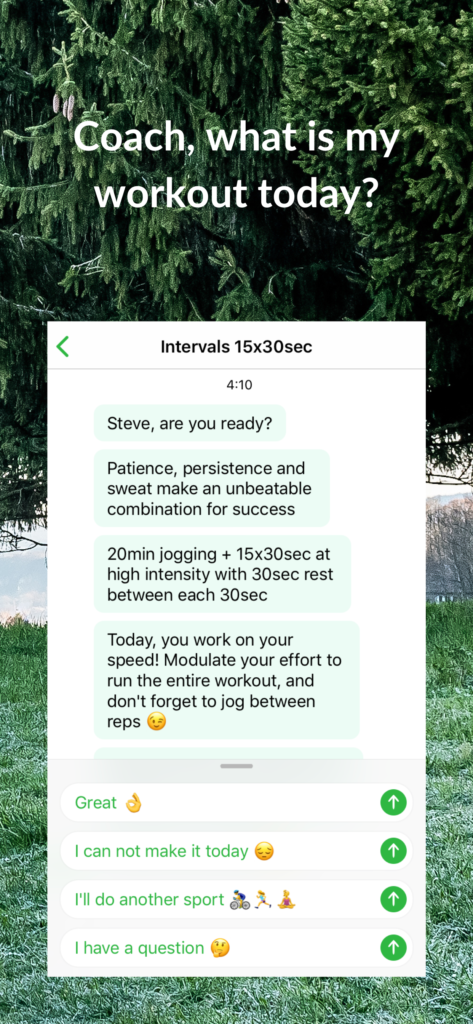 Find each of your sessions in "Results"
In "Results", you will find all your latest releases. Connect your Garmin, Suunto or Polar GPS watch or the Strava app in "My profile" -> "Connect a tracking App" to synchronize your next activities in RunMotion Coach.
Each of these providers has specificities, to sum up, Strava allows access to past activities, while GPS watches only give access to future activities. The GPS watches allow us to have the data second by second, whereas Strava, only by lapses.
Overall there is not much difference between connecting a GPS watch and a Strava watch. Personally, I have Garmin and Strava, and I connect Garmin. If 2 services are connected, we prefer to display the activities of the GPS watch.
Note that GPS watches do not notify us a change in the activity, whereas Strava does. For example, if you change the title or type of activity in Strava, you'll get the change in RunMotion Coach, but not if you change the title in Garmin, Suunto or Polar.
You have the possibility to enter an activity manually in "Add an activity".
Each diagram displays the weekly training load, a unit that allows you to take into account all the sports activities you do (running, cycling, swimming…).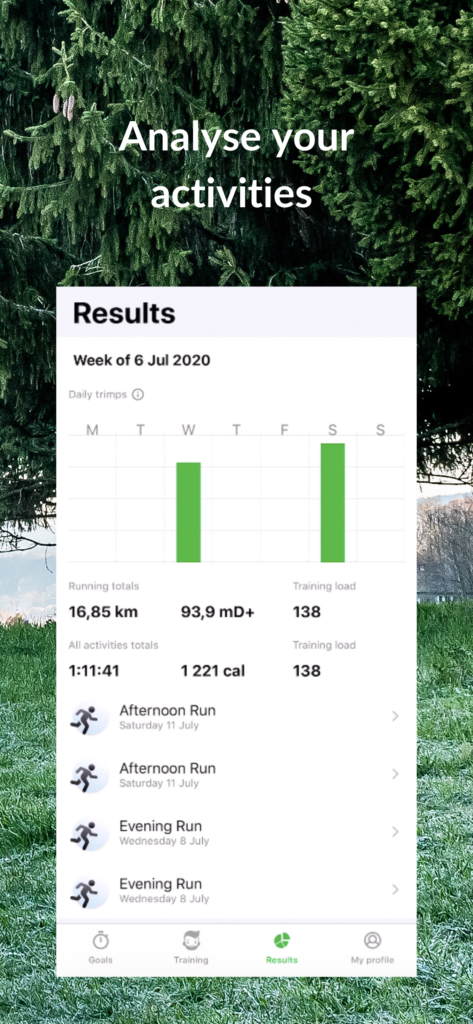 With this little guide, you should have a good overview of how the RunMotion Coach app works. Lots of other surprises await you in the app, especially in the messages from the coach 😉.